---
Simpson Taxidermy Studio
Web Pages

CLASSIFIED ADS

If you are looking to buy or sell a mount, I have given a couple of options below that you should find helpful
NOTE - I have not personally inspected, mounted or checked the work or people listed here.
How to Submit an Ad
ITEMS FOR SALE
SKULLS, ANTLERS, HORNS, CAPES & HIDES
WANTED TO BUY
PLEASE READ FIRST - LEGAL INFORMATION

---
Since I do not offer much for retail sale, I am using this page to help link up buyers & sellers of taxidermy items.
This is a C to C (customer to customer) exchange and the only thing I do is post the ads. I am not be involved in any sale or in any other way.
These items are not mounted or inspected by me & I am am not responsible in any way for any item listed here. THINK OF IT AS A CYBER GARAGE SALE AND USE ALL DUE CAUTION & COMMON SENSE.
sell
, send me an
e-mail
with the word
4sale-sell
in the
subject line.
If you are looking to
buy
a mount, send an
e-mail
with the word
4sale-buy
in the
subject line
.
I will copy & paste the e-mail
as is
, so please include the following in the BODY of your message:
1. A description of what you are selling or looking to buy
2. Price - How much you are asking or willing to pay
3. Your name or other contact person
4. A phone # or e-mail address where you can be reached
5.
Include your location -
(
US state or country
where the mount is located) This is important - many older mounts (pre-1973) cannot be sold across state lines since they do not have the current tags and paperwork required. .
6.
DO NOT SEND ME PICTURES - I do not buy mount to resell and I do not give appraisals.

NOTE - I do not recommend you use your full name or a complete address. A nick-name, initials or first name only and a city or just the state for location may help prevent people from collecting your personal info and using it for identity fraud or other malicious purposes.
I may delete some personal info from your ad to help protect you from these trolls.
See the Scam Alert below.

Please let me know when you sell an item so I can remove it from the page.
I am not planning to charge anything at this time, but if it gets to big, I may have to charge non customers. It would remain a free service to my clients. Let me know what you think.
---
WARNING

USE ALL DUE CAUTION WHEN DEALING WITH BUYERS AND SELLERS LISTED HERE.
SCAMMERS AND CON MEN PROWL THE INTERNET TO FIND UNSUSPECTING VICTIMS AND THIS WEB SITE IS NO DIFFERENT.
BE SUSPICIOUS OF ANYONE ASKING FOR BANKING OR PERSONAL INFORMATION.
BE VERY CAUTIOUS OF ACCEPTING BANK OR POSTAL MONEY ORDERS OR PERSONAL CHECKS AS PAYMENT - THESE MAY BE FRAUDULENT OR WRITTEN ON A CLOSED ACCOUNT.
I RECOMMEND THAT YOU ACCEPT ONLY CASH OR PAYMENT THRU PAYPAL. NEVER SHIP ANY ITEM UNTIL WAITING 1 - 2 WEEKS FOR PAYMENTS TO CLEAR .

SCAM ALERT 2016


One of the users on this site was nice enough to forward an example of an offer he received to buy his mount. It has all the earmarks of a scam and when he said he would only accept cash - he never heard from him again. Below is a copy of his original e-mail so you can be aware of this type of solicitation:
~~~~~~~~~~~~~~~~~~~~~~~~~~~~~~~~~~~~~~~
Potential buyer wrote -

I am interested in buying your item i will like to know the final asking price with the present condition hope to read soon.

Seller replied with the details on the condition, location, price, etc.

Potential buyer then replies -


Thank you for your response,i will like to let you know that the price of the item is ok with me $1000 Concerning the shipping of the item,i have a Shipping agent that would be responsible for the pick up of it at your location.





I will be paying by a check and i will wait for the certified check to clear your bank before the pick up arrangement is made,I would instruct my client to issue out a certified check to you and the certified check would cover both the price of the item and the shipping charges,so the amount on bank draft will be $4000



I would want you to pay in the check into your Bank account and when it clears, you would deduct the cost of the Item and then send the rest of the money to my Shipping Agent via the nearest Western Union outlet in your Area.

Ps:I want you to remove the advert from the Internet and consider it sold to me,on which i would be glad to compensate you with an extra $50 for doing this.



Email back with your following details..



Name on certified check:

Full Contact Address:

Phone number..
~~~~~~~~~~~~~~~~~~~~~~~~~~~~~~~~~~~~~~~~~~~~
See the flags?

NOTE - NEVER give your full name, address & phone # to someone you don't know
Never accept over payment and then send the "extra" or "refund" back to the buyer.

Use the same caution regarding a buyer come to your house - some are "casing" your place for guns and other valuables or have other bad intent. Best to meet someplace public, even if it's inconvenient.

If it's a large or awkward to move piece - you can bring pix of the mount, including close-ups, to show a potential client. A legitimate buyer will understand and be cooperative.

Be careful out there! The internet is gathering place for the refuse of humanity.


back to top
---
FOR SALE
---
Unique - one-of-a-kind piece - limited time availability.
FOR SALE: Mounted carrier pigeon, ďCher AmiĒ for sale, 8Ē tall on a 1Ē tall base. Constructed mainly out of chipboard and finished with acrylic paint.
Price: Looking for $200.00 or trade (email for offers). Free shipping within the USA.
Seller: Madison Sherrick, madisonesherrick@gmail.com
Location: Indiana, USA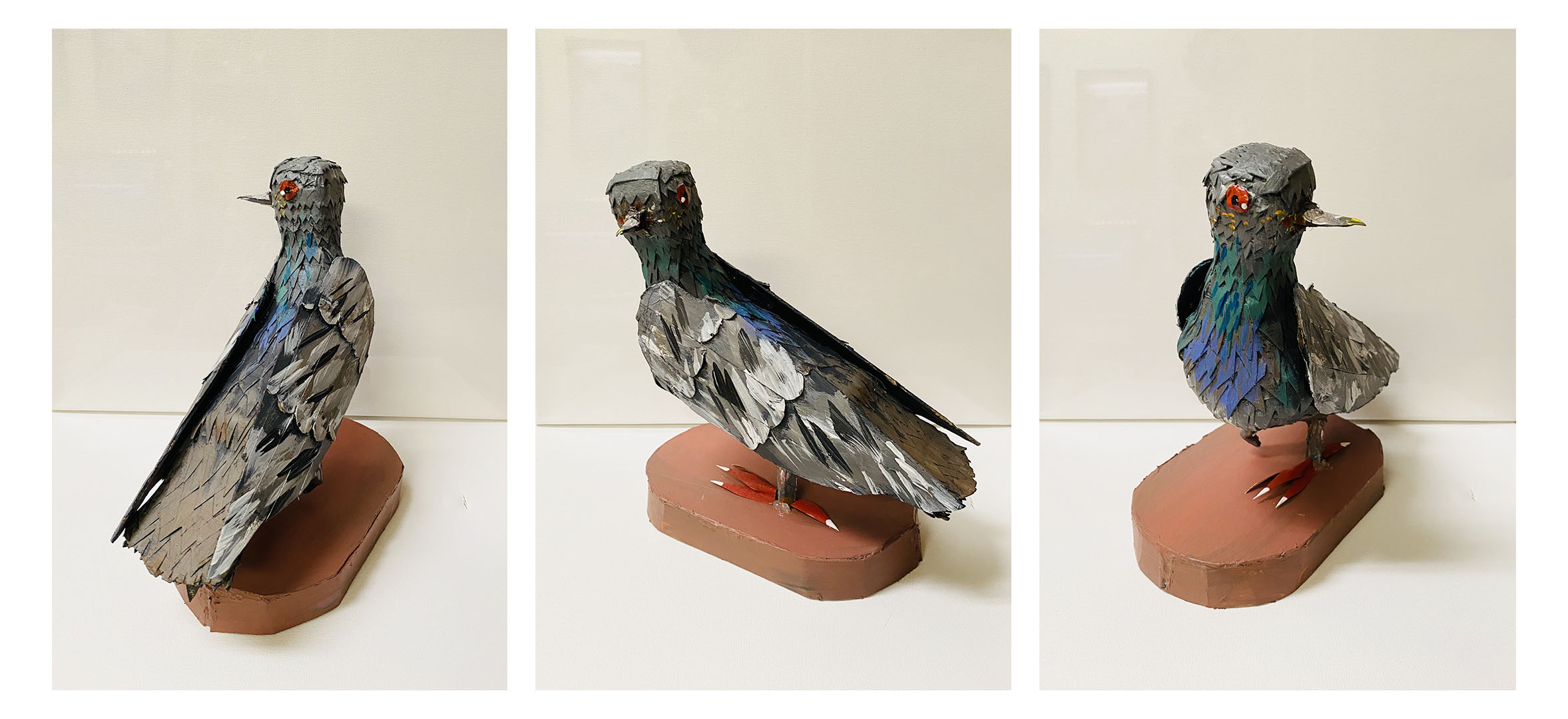 ---
Latest Update
April 14, 2021
My husband and I made 3 trips to South Africa and shot these animals between 2000 and 2012. They are all excellent representations of each species. The Wildebeest would most likely be a gold trophy, but we never had any of these scored. I have seen species like all of ours selling on various websites, and have set my price at about 30% less. Please feel free to make an offer on individual pieces or the entire collection.
Gemsbok $1200
Impala $500
Kudu $950
Wildebeest $600
Blesbok $400
Full mount of Duiker $500
European mounts:
Cape Bushbok $100
Mountain Reedbok $100
Impala and Reedbok skins - make an offer
I have photos that I can text or email to you. If you have an interest please email or text me (no phone calls please until you've texted me first).
Delivery or shipping would need to be discussed and the cost negotiated with the buyer. We are in Michigan and will be traveling to Florida in the next few weeks. We could deliver to someone along that route if need be.
Sidney
248-505-7753
#######################################################
March 22, 2021

Full bull elk head mount. Great decoration for above the fireplace to give your house that outdoors feels to it. A product for those who love animals, hunting, and the great outdoors. Trying to downsize by finding this product a good home! I can ship on buyers expense
Contact me for more details
PRICE: $1500 Name: H. Johnson Phone - 916.469.5196 Email:
Haleyjohnson997@gmail.com
Location: Sacramento,California
---
JANUARY 4, 2021


---
standing
black bear cub on stand(
,new) .A tag from the Minnesota department of conservation documents the location this cub was hit by a car and killed in 1978
.There was no seizure according to officials contacted at the department of conservation, its clear for transfer and shipment.
Cub measures 53" tall overall, cub is 38"tall. Very good condition ,2 small holes one in each hole under fur. Does not include shipping ,will be figured after sell, Pictures available at
oolsson1@sbcglobal.net
.
stand is removable .price is $2000.
---
Two
elk shoulder mounts
on floor pedestals. Taxidermy work done in 2020 after a Texas exotic hunt. Both heads tilted back and bugling. One scored 380+ and the other was 400+. Beautifully done. Located in Texas. Email
klcline1991@icloud.com
or text 903-303-4119 for pictures. Asking $2000 each.
---
6x7 Elk Shoulder Mount - $1000 obo
November 2006
Northern Arizona
Excellent condition
Austin Roegladden 9282319334
---
Quebec
Barren Ground Caribou shoulder mount
Excellent condition for sale $600. North Texas DFW area.
Email me for pictures
secjcc@yahoo.com
---
I would like to sell my
mountain lion
full size mount. It is on a rock an artificial rock stand it is on all four
Standing upward.
My name is Anthony Luciano this is my correct email 505-486-4917
---

AUG 17, 2020 -
Kansas
Mule deer moun
t for sale. It scored 226". Asking $5000 for it.
CONTACT -
Mike
- 785-534-3560 Phillipsburg Kansas
#######################################################################
AUG 17, 2020 -
Full Life-size Adult Black Bear Newly mounted spring 2020 Wyoming black bear with lush fall coat

He is in a lying position Approximate size is 6' long by 2 2 1/2' wide Asking $2700.00

See photos go to www.fetznertaxidermy.com For more information email: steve@fetznertaxidermy.com

################################################################

June 30, 2020 ~
#1 - Lifesize lioness standing on a lifesize impala ram
. Both from a trip to Africa in 2013. Beautiful mount. $4,000 obo
#2 - lifesize black bear taken in Alaska mounted in log scene looking up at a pine marten I trapped in AK. Outstanding work. $4000 obo
Located in middle Tennessee.
Interested parties please email for pictures or any additional information.
#######################################################

June 30, 2020 ~
. I have
4 huge trophy sized mounted elk shoulder mount
. $$ 1800.00 obo Contact. Charles, mounts located in FL
(352)812-2431. or e-mail - Zooyork608@aim.com
#######################################################


3/7/20 -
I am wanting to sell my life sized
fully mounted black bear
, 6ft tall and 40inches wide. In great condition! Asking
$1500
obo.
Contact name: Jody Number: 3168836101 Located: Wichita kansas

################################################


3-7-20 -
I have
several shoulder mounts
for sale. Not looking for high $ but also dont want to give them away. All in great condition, i am leaving the country and cannot take them with me.
Large Elk, pronghorn/antelope, wild boar, black bear, ibex and two white tail deer
plus all kinds of antlers and horns. I am in St. Louis, MO please email me for pictures
modiweiss@yahoo.com
&&&&&&&&&&&&&&&&&&&&&&&&&&&&&&&&&&&&&&&&&&&&

3-7-20 -
I am selling a lifesize
full cinnamon phased black bear mount.
It was mounted by a great taxidermist here in AZ 1.5 years ago. Its in excellent condition and beautiful taxidermy work. I am selling for 3500. The mount is located in AZ. My e mail address to be contacted by is
jeremymartinez428@gmail.com
.
@@@@@@@@@@@@@@@@@@@@@@@@@@@@@@@@@@@@@@@@@@@


3-7-20 -
I have an
elk
mount to sell. I live in Washington state. Mark -
markfrancis76@msn.com
---
2/3/2020 -
I have recently remodeled and have no use for my mounts, My wife is excited LOL
1. Catalina Goat Shoulder Mount - record class - $500.00
2. Large 8 point whitetail Shoulder Mount - $250.00
3. Small 10 point whitetail Shoulder Mount - $175.00
4. Ringnect Pheasant Wall hanging Flush Mount - $100.00
I live in the Leesville / Fort Polk area, Louisiana - Contact
mikeandnecy@aol.com
/ (337) 208-0822
################################################################

2/3/2020 -Vintage White Lion
Taxidermy 100% Reproduction Head Mount ~ High Quality. Had whiskers at one time but currently doesn't have them now still looks great and could be added again. Hard to Find See photos for all details. Typical Wear from age but still looks great. $1500 Free Shipping Call 812-236-6455 Located in Terre Haute, IN

################################################################

2/3/2020 -
1. Blesbuck shoulder mount- $400
2. Spring buck shoulder mount
$350
3. Red Hartebeest shoulder mount- $650
4. Gemsbok shoulder mount -$750
5. Axis deer shoulder mount (Argentina)-$350
6. Wild boar shoulder mount(Argentina) -$400
7. Black buck shoulder mount(Argentina)-$300
8. Red stag shoulder mount (Scotland) -$450
9. Pronghorn shoulder mount -$350
10. Caribou shoulder mount -$650
11. Mule deer shoulder mount-$275
12. Moose shoulder mount (Canadian moose) -$2250
13. Whitetail shoulder mounts (10 mounts $350 each)

Anthony
agrosso@snet.net
Connecticut

###############################################################


01/05/20 -6x6 shoulder mount elk
shot in Colorado 2018. Located in Colorado Springs, asking $1200 OBO. contact
hannahroberts1204@gmail.com
#######################################################


---
SKULLS, ANTLERS, HORNS, CAPES & HIDES

Latest Update
3/25/19
I have a frozen mature bull elk cape for sale, $100. Located in Queen Creek AZ. Bob 780-871-8687
####################################


WANTED TO BUY
Latest Update: Aug 18, 2019

8/18/19 -
240" 25 point whitetail deer shoulder mount excellent condition (award winning taxidermist) $1000.00 William
Mock---bmock@lamar.com
Pittsburgh Pa.
########################################################

8/18/`18 - Two-mounted moose heads - One is from Alaska and the other from Canada. Antler racks measure 40" and 45", respectively. $1,500/each. Located in Mackinaw City, Michigan. Email bkparker5241@gmail.com for photos if interested.
######################################################

8/18/19 - I want to sell my Mountain Lion ( Cougar) is a beautiful and Majestic Animal I has for 15 years and I call my Baby, my Father leave to me , when he pass away . He capture in AZ. And send to Taxidermy in Az. I donít has documentation or who do the job. But is unique, Is mounted in the top of he a real dry tree trunk and in the bottom has fakes rocks and under the rocks has rollers, for can move easily. I donít see nobody yet has like this. I ask $19,500.00. I want to sell a person come and see in AZ. He has to pick up.. Iím a mature lady, I canít delivery. Or they want to pay for deliver I can find someone to delivery. But has to paid me thru PayPal and wait for clear 1 or 2 weeks to the transaction clear. I sell because I has to move to a small apt. and donít fit well. Very good condition and clean. Look like new. My name is Elsie. Live in Phoenix Arizona. Need photos, I can send to you by email . My email is Elsie1313@msn.com . I prefer via email to communicate.

#################################################################


06-24-19 - Interested in purchasing full body Alligator or Crocodile. Must be at least 12 ft. Long

Also - Iím interested in buying a full body Bison or Buffalo
Contact Mike. 917 544-4885
#################################################

02/0/19 - Looking for any full size Leopard mount... Not sure what I am willing to pay as it would depend on the condition and age.

---